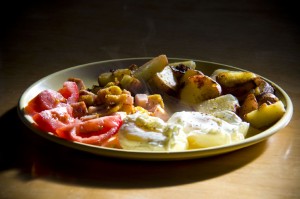 No Meal Planning; Our experienced and Creative "Red Seal" Chef does it all.
No Shopping:  Valhalla's "Red Seal" Chef, knows the best places to source his local food.
Awesome Appies
No Packing: isn't there enough planing and packing….and repacking?
All baking is made from "Scratch" right at the lodge
No transporting: Our chef , trained in "food Safe" practices gets it to Heli staging and lodge for you .Safe N' Sound .
Decedent Desserts
For our American guests …No Border hassles, delays. That $ Exchange rate makes it almost the same cost as doing all this for yourself, and you still can't compare with a "Red seal" Chef.
Ya just can't compare meal/menu quality( and creativity) with a Red Seal Chef who spends 12hr days in the Kitchen.
Quality Catering makes your trip that much more memorable.
AND BEST OF ALL
"Powder Duty" days Not "Meal Duty" days
Why would you NOT,  GO CATERED????